Series MPV – electric chain stainless steel double link
Aluminium bodied electric chain window opener with pivot bracket and selectable strokes, over the 5 standard selectable strokes supplied by factory, the motor is also equipped with an innovating function: the "U" position. This function allows the user to regulate a new needed stroke of the chain in a range from 12 to 400 mm.
Actuator with stainless steel double link chain.
Available on 24V d.c. and 230V a.c. versions, force 300N.
The motori s supplied with 1200mm of cable.
Supplied complete with pivot brackets.
Bottom hung fixing brackets available separately.
The motor is also equipped with the safety function that reduce the force during the close operation in the last 5 cm.
Select color and voltage to show the SKU
€0,00
LINEAR ACTUACTOR: FOR LOUVRES, SKYLIGHTS AND DOMES
Chain actuator: for bottom hinged windows (hinges on the bottom side, inside opening); for top hinged windows (hinges on the top side outside opening)
Linear actuator: for louvres, skylights and domes
To calculate the window opening and closing force please refer to the following semplified formulas
remember that 1 N (Newton) is about 0.1 kg (kilograms)
| | |
| --- | --- |
| Operating voltage | 24V d.c. and 230V a.c. |
| Available strokes | 150 – 250 – 300 – 350 – 400 mm |
| Programmable strokes ("U" position) | 12 – 400 mm |
| Maximum tensile load | 300N |
| Maximum thrust load | 300N |
| Power | 18W |
| Time to travel (400mm) | 35s |
| Connection | 1200mm cable |
| Duty time | 20% |
| No load speed | 12mm/s |
| Temperature range (°C) | -15° +70° |
| Protection | IP42 |
| Push points | 1 |
| Electronic control speed | Yes |
| Sinchronisation | Yes (optional) |
| Link adjustment of moving part | Automatic |
| Parallel connection | Yes |
| Double insulation | Yes |
| Safety function | Yes |
| Dimensions | 35x53x470 |
ACTUATOR FORCE (F) FOR VERTICAL WINDOWS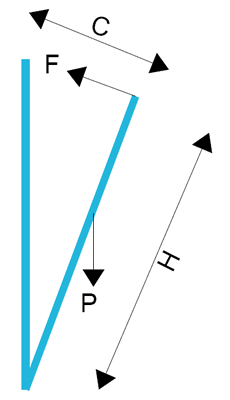 Force calculation example
F = (WINDOW LEAF WEIGHT /2) X (ACTUATOR STROKE / WINDOW LEAF HEIGHT)
WINDOW LEAF WEGHT (P) = 100 kg
ACTUATOR STROKE (C) = 250 mm
WINDOW LEAF HEIGHT (H) = 1000 mm
THE REQUIRED FORCE (F) IS:
F= (P:2)X(C:H)
F= (100 : 2) X (250 : 1000) =
12.5 kg (125 N)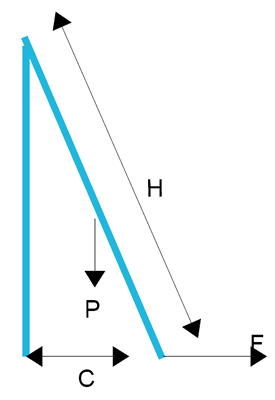 ACTUATOR FORCE (F) FOR HORIZONTAL WINDOWS
Force calculation example
F = WINDOW LEAF WEIGHT / 2
WINDOW LEAF WEIGTH (P) = 100 kg
THE REQUIRED FORCE (F) IS:
F= P: 2
F= 100 : 2 = 50 kg (500 N)