LINEAR ELECTRIC ACTUATOR LN series
230 V a.c.
Linear actuator ideal for roof vents, roof domes and large windows. The motor is small; body is in anodised aluminium.
All linear actuators are supplied with 1,2 meters cable and one fixing braket as standard.
Linear actuators are avaialble:
with  200 , 300 , 500 , 750  mm travels;
at 230 Vac with 200N or 450N thrusts.
Select color and voltage to show the SKU
€0,00
LINEAR ACTUACTOR: FOR LOUVRES, SKYLIGHTS AND DOMES
Chain actuator: for bottom hinged windows (hinges on the bottom side, inside opening); for top hinged windows (hinges on the top side outside opening)
Linear actuator: for louvres, skylights and domes
To calculate the window opening and closing force please refer to the following semplified formulas
remember that 1 N (Newton) is about 0.1 kg (kilograms)
| | |
| --- | --- |
| Supply voltage | 230V a.c. |
| Maximum pushing load | 200-450N |
| Maximum pulling load | 200-450N |
| Power | 15-24W |
| Free travel timing | Depends on travel |
| Connection | Lateral cable |
| Working mode | Continuous |
| Working temperature | -15° +45° |
| Protection class | IP40 |
| Push points | 1 |
| Electronic speed control | No |
| Bracket regularization to vent | No (automatic) |
| Connection with 2 or more motors | Yes |
| Travel end | Current consumption |
ACTUATOR FORCE (F) FOR VERTICAL WINDOWS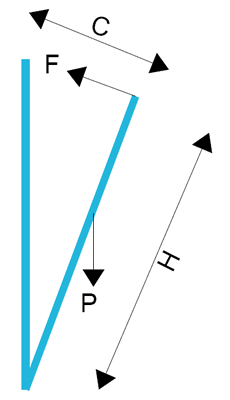 Force calculation example
F = (WINDOW LEAF WEIGHT /2) X (ACTUATOR STROKE / WINDOW LEAF HEIGHT)
WINDOW LEAF WEGHT (P) = 100 kg
ACTUATOR STROKE (C) = 250 mm
WINDOW LEAF HEIGHT (H) = 1000 mm
THE REQUIRED FORCE (F) IS:
F= (P:2)X(C:H)
F= (100 : 2) X (250 : 1000) =
12.5 kg (125 N)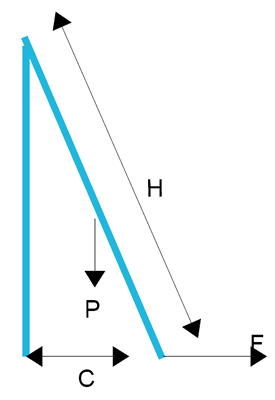 ACTUATOR FORCE (F) FOR HORIZONTAL WINDOWS
Force calculation example
F = WINDOW LEAF WEIGHT / 2
WINDOW LEAF WEIGTH (P) = 100 kg
THE REQUIRED FORCE (F) IS:
F= P: 2
F= 100 : 2 = 50 kg (500 N)