C1 SERIES – electrical chain actuator
stroke 250mm
body length L=304
Slim aluminium bodied electrical chain opener with 250mm travel (175N thrust).
Both 24Vdc and 230Vac versions are available.
Supplied complete with slide bracket for fixing to vertical leg section of frame profil.
For bottom hung application the bracket must be used.
Select color and voltage to show the SKU
€0,00
LINEAR ACTUACTOR: FOR LOUVRES, SKYLIGHTS AND DOMES
Chain actuator: for bottom hinged windows (hinges on the bottom side, inside opening); for top hinged windows (hinges on the top side outside opening)
Linear actuator: for louvres, skylights and domes
To calculate the window opening and closing force please refer to the following semplified formulas
remember that 1 N (Newton) is about 0.1 kg (kilograms)
| | |
| --- | --- |
| Supply voltage | 24V d.c. e 230V a.c. |
| Maximum load | 175N (travel 250mm) – 125N (travel 380mm) |
| Maximum pulling load | 175N |
| Power | 10W |
| Free travel timing | 27-40s |
| Connector connections | Yes |
| Working mode | Continuous |
| Working temperature | -15° +45° |
| Protection class | IP32 |
| Push points | 1 |
| Electronic speed control | No |
| Bracket regularization to vent | Yes |
| Connection with 2 or more motors | Yes |
| Travel end | Double: mecanical and current consumption |
ACTUATOR FORCE (F) FOR VERTICAL WINDOWS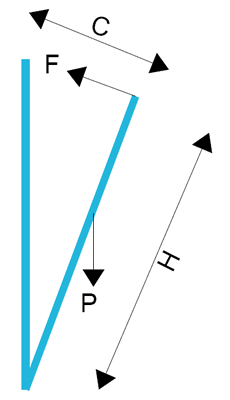 Force calculation example
F = (WINDOW LEAF WEIGHT /2) X (ACTUATOR STROKE / WINDOW LEAF HEIGHT)
WINDOW LEAF WEGHT (P) = 100 kg
ACTUATOR STROKE (C) = 250 mm
WINDOW LEAF HEIGHT (H) = 1000 mm
THE REQUIRED FORCE (F) IS:
F= (P:2)X(C:H)
F= (100 : 2) X (250 : 1000) =
12.5 kg (125 N)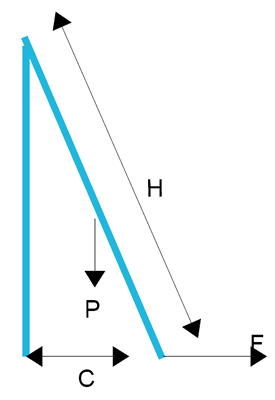 ACTUATOR FORCE (F) FOR HORIZONTAL WINDOWS
Force calculation example
F = WINDOW LEAF WEIGHT / 2
WINDOW LEAF WEIGTH (P) = 100 kg
THE REQUIRED FORCE (F) IS:
F= P: 2
F= 100 : 2 = 50 kg (500 N)